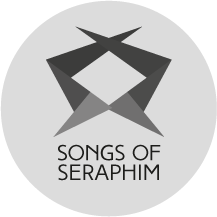 Creation of a logo for the Danish Band "Songs of Seraphim"
As Songs of Seraphim were producing their new album "DU ER", they commissioned me to work on their idendity. I created this logo. I wanted simple shapes — wings — S.O.S.
CD cover "DU ER"
They also asked me to design a CD cover for them.
They liked the idea of using words to make up the typography used for the title.
The rest was up to me.